ZUNDAPP MEETING AT FRED MOTOREN 1 (30-4-98)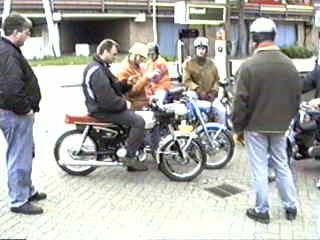 Thursday, 30 April 1998, there was a Zundapp meeting at Fred motoren in Rotterdam, NL.
Every year Holland celebrates the queen's birthday and we call it "koninginnedag"
Every koninginnedag a lot of mopeds and light motorcycles, most of them Zundapp's,
some Kreidlers, Honda's and I even saw a Harley Davidson, come to Fred motoren in Rotterdam
The meeting is a heritage from the seventies, when hundreds of mopeds met every year
at koninginnedag in Rotterdam, and took the highway to go to Scheveningen, under police escort
The police forbid it and tried to stop it several times but we were with too much mopeds to stop.
The meeting is spontaneous and not arranged by anyone. We're only with about 40 to 50 nowadays
so we don't take the higway to Scheveningen anymore.
As you'll see it's very popular to build a 17 hp KS125 under a 517 (ks50)moped or 518 ks100 (smal) frame.
but now we're older and wiser a lot of us have a motorcycle drivers-license
and traffic-registration for our 125 cc mopeds (which are legally motorcycles now).
(Here in Holland a moped is only allowed to drive as fast as 45 km/h, if the police
checks your moped and it's faster they take your un-original parts or your complete moped.
This year i took my videocamera with me, the pictures are taken from
video so the quality is not perfect but you can get a good impression from the zundapp's
we drive here in holland.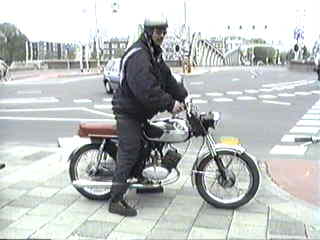 '69 KS 50, 5 speed, Danny B., Delft NL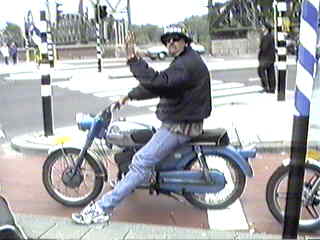 '71 KS100, Onno H., Delft NL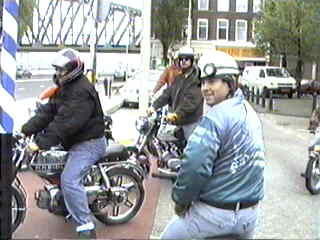 Some members of our moped club 'Het Zuigerveertje'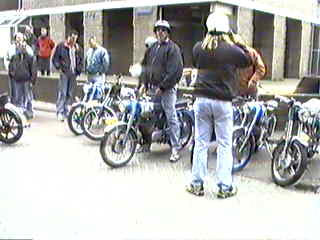 Some more members of our moped club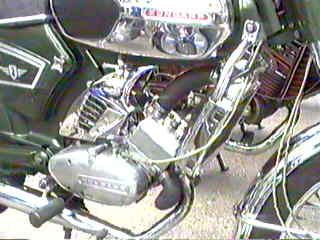 Close up of the flat KS50 watercooling of Onno.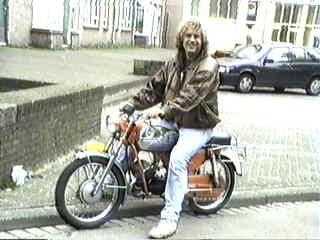 '72 Super Sport, Willem van O., Delft NL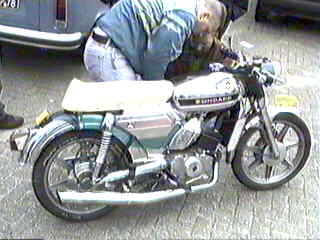 The KS 80 with rear disc brake from Gerard K., Delft NL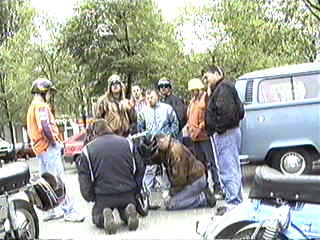 Repairing the KS80, Gerard K., Delft NL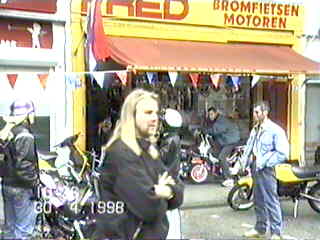 A well known member of "Het Zuigerveertje" Called 'Peen' in front of Fred Motoren



Next pictures
Back to Willem's homepage
Zundapp meeting '99